Alternative Auto Body Shop – Madison WI
Fast – Affordable – High Quality Body Shop Option
Auto Color is an Auto Body Shop Madison WI that specializes in paintless dent repair and car detailing, providing low cost, same day cosmetic repairs for cars, vans, trucks, motor cycles or boats in our service center. Whether you lease or own, Auto Color is the smart way to repair your vehicle compared to the traditional auto body shop Madison WI. Watch our latest video to the right.
Auto Paint Scratch Repair
Scratch repair is something at which Auto Color excels. Depending on the nature of the scratch, we often can eliminate or greatly reduce the damage to a point where traditional auto body shop in Madison WI refinishing is not necessary. Don't let unsightly scratches diminish the looks of your car. Body Repair  Details
Paintless Dent Removal Madison WI
As long as there are parking lots and other drivers, small dings and dents are a reality drivers have to deal with. Often, these dents can be repaired quickly, without the expense and mess of traditional dent and paint repair techniques. Your car can always look brand new for a fraction of the price of other auto body shops Madison WI. Dent Repair Details
Plastic Bumper Repair Madison WI
Dented, cracked and scratched bumper repair is our specialty. Most damage that occurs in day-to-day use and fender benders can be repaired. Our exclusive processes allow us to fix only the damaged spot without having to replace the whole panel. The total auto body shop Madison WI repair cost is often less than your insurance deductible. Most repairs at auto body shop Madison WI range from $90-$300. Before you pay the replacement price for a new bumper, make AutoColor the auto body shop Madison WI that you call to see how much you can save. Bumper Repair Details
Car Detailing Madison WI
There is no reason for you put up with a car that isn't perfect! AutoColor cleans and rejuvenates the interior and exterior of your car recapturing the stunning new car look you remember. Appearance Service Details
Auto Color is a trusted auto body shop Madison WI that works seamlessly with auto dealerships, fleet/facility managers, rental car companies, insurance companies and drivers of leased company vehicles, by providing fast, high quality, specialized body shop Madison repair and reconditioning services.
Our services are now available to every car owner whether you have a lease return vehicle, a trade-in or a vehicle you want to sell. We have worked on just about every type of vehicle on four wheels and some with less – including boats and planes (not to mention the world renowned Wienermobile).
Brands on which we routinely perform auto body repair include Ford, Chevy, Chrysler, Lincoln, Mercury, Buick, Cadillac, Lexus, BMW, Volkswagen, Honda, Toyota, Hyundai, KIA, Fiat, MG and more (including Bentley and other collectables).
We keep vehicles like new by using a wide array of body shop techniques and provide the highest professional standards you expect from an auto body shop in Madison WI.
Car Paint Repair
When car paint repair is needed because your car is scratched or damaged, Auto Color will repair the scratch on location or in our fully equipped shop. Whether you need key scratch paint repair, touch up repairs after dings, dents or surface rust, Auto Color guarantees workmanship for as long you own your car. (some restrictions apply)
Stone Chip Paint Touch-up
Professional paint chip touch-up can help you hold back the hands of father time. Color matching, precise paint application and multiple techniques depending on your situation can greatly improve the appearance of your vehicle. This type of car paint repair is a specialty of Auto Color's and saves our customers a great deal of money compared to traditional body shop repairs.
Auto Paint Scratch Repair and Car Paint Repair
Your car works hard in hot or cold, wet or dry. Crowded parking lots and slick driving conditions contribute to the little bumps and bruises that can cause your car to look older than its age. Auto Color specializes in repairing the little things that can detract from your car's looks. Repairs we specialize in include:
Stone Chip Paint Touch-up
Key Scratch Paint Repair
Dings and Dents Paint Repair
Minor Surface Rust Repair
Bumper Paint Repair
Plastic Bumper Repair
Plastic bumper repair is a reality of driving automobiles, vans and S.U.V.s. When your plastic bumper gets scuffed, dented, or cracked, it looks bad…really bad. Plastic bumper repair is one of the most needed and appreciated auto body repair services we offer. Drivers are usually unaware of how affordable it is to repair a plastic bumper. Auto Color provides plastic bumper repair services for every make and model of car. Bring in your scuff, dent or crack, and you may be surprised at how little your repair costs.
Plastic Bumper Repair – Ranges from $90 – $450
Dented, cracked and scratched bumper repair is our specialty. Plastic bumper repair techniques can fix most damage occurring in day to day use. Auto Color's exclusive processes focus on only the damaged areas without having to replace an entire plastic bumper. The repair cost is often less than an insurance deductible. So, instead of paying the replacement price for a new bumper, call Auto Color for your plastic bumper repair -most plastic bumper repairs range from $90-$450. Call now to help your car to look the best it can.
Plastic Bumper Repair Service – Satisfaction Guaranteed
Auto Color guarantees our workmanship for as long you own your car. Some restrictions apply. If you have a concern with our workmanship, contact Auto Color immediately.
Paintless Dent Repair – Middleton-Madison WI
Paintless dent repair offers an affordable and quick technique to repair many types of dents from the size of dimes to football size.
When using paintless dent repair techniques, the original color in the area of the dent will not be altered. This holds true no matter the age of the vehicle or the fading of the paint that may have occurred in the area being repaired .
Paintless Dent Repair is Economical In Middleton WI
When the paint finish is not broken and the metal in the panel is not "stretched", the paintless dent repair option is one of the most cost efficient repairs Auto Color can provide to its customers.
If the finish is broken, Auto Color's paint repair specialist can repair the finish. However, the paint rarely can be matched exactly and new paint must be blended with the surrounding area. Depending on the location of the dent, the new paint may have to be blended on multiple panels increasing the scope of the repair greatly. With paintless dent repair, this can be avoided completely.
This same repair scenario exists for dents where the metal itself has been stretched. If the metal has been stretched, paintless dent repair is not an option. Body filler, repainting and blending the new paint with the existing paint color is the only option.
Benefits of Paintless Dent Repair In Middleton WI an Madison WI
Simply said, paintless dent repair offers major benefits, they include the following –
Paintless dent repair maintains the original paint and corrosion protection finishes of the vehicle
Paintless dent repair is a fraction of the cost of traditional body shop options
Paintless dent repair is fast – often with same day service – so you don't lose the use of car
Paintless dent repair is usually within deductibles, avoiding claims with insurance
HAIL DAMAGE?
We can fix you up like new.
Click here to find out more.
Alternative Body Repair Shop Madison WI
Plastic Bumper and Auto Body Repair Madison WI
Plastic bumpers are a reality of life for automobiles, vans and S.U.V.s. And when they get scuffed, dented, or cracked, they look bad… really bad. Plastic bumper repair Madison is one of the essential auto body repair Madison WI services we offer and drivers are usually unaware of how affordable it is to repair plastic bumper. We do it all the time and for every make and model of car. Bring in your scuff, dent or crack, and you may be surprised at how little the repair costs.
Body Repair Shop Madison WI
Drivers have become used to the expense of traditional auto body repair shop Madison WI services and sometimes just accept that minor body repair Madison WI will have to wait for a larger problem to develop. Auto Color makes all types of auto body repair Madison WI services affordable, and the repairs can usually be done in a single day.
Paintless Dent Repair or Removal
Protecting the original finish of your car starts with using the least invasive procedure possible to protect the integrity of the finish. If the finish itself is not damaged, Auto Color's specialists can remove dents and use professional scratch and auto body repair Madison WI techniques to restore your car.
Auto Color can help your car look like new using a wide array of auto body repair techniques. We pride ourselves on providing the most appropriate repairs of any auto body repair shop in Madison WI.
Auto Body Repairs:
Plastic bumper repair
Car rust repairs
Alloy wheel repairs
Paintless dent repair/removal
Key scratch paint repair
Dings and dents paint repair
Minor surface rust repair
Bumper paint repair
Auto Detailing Services
Auto detailing is a reliable way to protect one of your biggest investments – your vehicle. For auto detailing, Auto Color uses professional grade products, supreme attention to detail and superior knowledge of automotive finishes and materials to rejuvenate your car, making it look new again.
Our auto detailing services includes a complete interior service and unparalleled exterior detailing including deep cleaning with the buffing, polishing and waxing your finish requires to gleam. Our average detailing process take a minimum of six hours so you know your vehicle is getting the attention it deserves.
We understand the needs and the timelines our dealer customers must deal with. Our goal is to help you present the best possible face to the buying public so you look good and you customers feel great when driving off of the lot.
Schedule Your Auto Detailing Service
Auto detailing scheduling is done by appointment; Monday – Friday 8:00 A.M. – 5:30 P.M. Vehicles are ready for pick up the same day. A key drop box is available for before or after hour drop offs.
Alloy Wheel Repair – A Fix For Curb Damage
With aluminum alloy wheels being simultaneously common because of volume now on the road and unique because of the wide variety of styles, there is a need for alloy wheel repair. Auto Color is the place to go with the scuffs and scraps caused by curbs when parking or moving through tight, curbed areas. The finish on the wheels can be compromised leaving car owners with three options…
Option One –
You can ignore the damage and continue driving
Option Two –
You can replace the wheels by buying new wheels (but that can be costly)
Option Three –
You can repair the alloy wheels you have – the Auto Color option
Alloy Wheel Repair – Repair vs. Replace
Alloy wheel repair helps keep you on the road – and looking good while you are on the road. The repair option is generally much less expensive than purchasing a replacement wheel. Or, at times when a single matching replacement wheel cannot be located, repair is much, much less than replacing a set of four wheels. Alloy wheel repair is sometimes the only choice when replacement wheels are hard to find or have been discontinued. The bottom line with alloy wheel repair is that the repair is always much less expensive than replacement. Additionally, when repaired, in most situations, the repair is undetectable. When you have common scuffs and scrapes that often come from city driving, Auto Color's expert technicians will help you keep looking good with superior alloy wheel repair.
Alloy Wheel Repair Has Limits
Alloy wheel repair has its limits. If a wheel is cracked, or broken or bent, they cannot be fixed…by anyone. Repairs are generally done to the finish. Aluminum is not metal that can be repaired if cracked or broken. And if bent, does not have the properties needed to be bent back in shape and withstand the rigors of the road. If you have any questions about alloy wheel damage, visit us at our shop and we'll be happy to help assess your situation.
Headlight Restoration
Auto Color can restore cloudy, foggy, yellowed plastic headlights to like-new condition!As many as nine out of ten cars on the road suffer from yellowed plastic headlight lenses. Proper maintenance of your lights improves the looks of your car and safety for driving at night.
Rely on the Auto Color team to restore and rejuvenate your plastic headlight lenses.
Auto Upholstery Repair
Repairing automotive interior surfaces recaptures the youth of any vehicle. Auto Color can often mend and re-color vinyl, leather, plastic, fabric surfaces and carpet that is damaged.
Rely on the Auto Color team to repair your car interior wear and tear or damage issues or problems for much less than replacement cost.
Taking Your Car's Appearance to a Higher Level
Auto Color can help you add style to your great looking car.
The Auto Color team can add distinctive touches to make your car unique. Call for details on small additions that can take your car to a higher level. Consider the following:
3M clear bra
Pin striping
Auto leather & upholstery  repair
Headlight restoration
Auto Upholstery Repair and Maintenance
Auto Color's experts at auto upholstery repair and maintenance help your car keep looking, feeling and smelling new. You spend all of your driving time in the interior of your car, so why not make it feel like new all of the time.
Repair is always much less expensive than replacing, especially when it comes to your interior.
Auto upholstery repair covers a wide range of services. If you feel your interior is starting to show some signs of wear and tear, there is a great chance we can recondition your car to a level that will make you smile
Our auto upholstery repair professionals help you in whatever area of care maintenance you need to keep your car's interior looking like new. We provide a variety of professional services, including: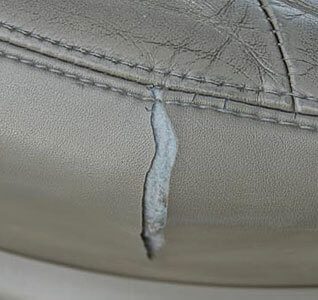 Auto Upholstery Cleaning – we provide reconditioning services for part of or your entire interior
Auto Upholstery Repair – our skilled technicians can help repair leather or other materials anywhere in the interior of your car.
Auto Upholstery Spot Repairs – whether you need mending of fabric or leather, need fabric to match, or need panels replaced within your car, the Auto Color pros can get the repair made at the highest possible quality level.