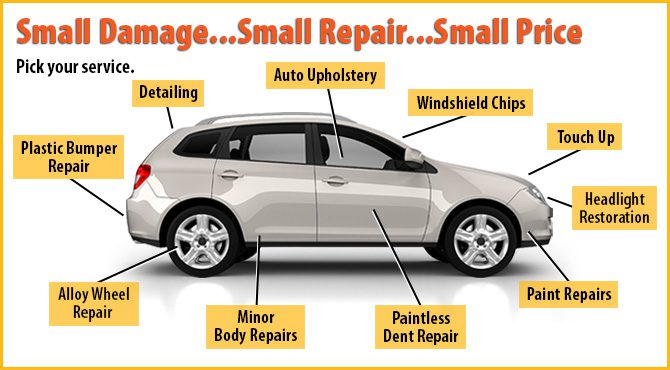 Alternative Auto Body Shop – Madison WI

Fast – Affordable – High Quality Body Shop Option
Auto Color is an Auto Body Shop Madison WI that specializes in paintless dent repair and car detailing, providing low cost, same day cosmetic repairs for cars, vans, trucks, motor cycles or boats in our service center. Whether you lease or own, Auto Color is the smart way to repair your vehicle compared to the traditional auto body shop Madison WI. Watch our latest video to the right.
Auto Paint Scratch Repair
Scratch repair is something at which Auto Color excels. Depending on the nature of the scratch, we often can eliminate or greatly reduce the damage to a point where traditional auto body shop in Madison WI refinishing is not necessary. Don't let unsightly scratches diminish the looks of your car. Body Repair Details
Paintless Dent Removal Madison WI
As long as there are parking lots and other drivers, small dings and dents are a reality drivers have to deal with. Often, these dents can be repaired quickly, without the expense and mess of traditional dent and paint repair techniques. Your car can always look brand new for a fraction of the price of other auto body shops Madison WI. Dent Repair Details
Plastic Bumper Repair Madison WI
Dented, cracked and scratched bumper repair is our specialty. Most damage that occurs in day-to-day use and fender benders can be repaired. Our exclusive processes allow us to fix only the damaged spot without having to replace the whole panel. The total auto body shop Madison WI repair cost is often less than your insurance deductible. Most repairs at auto body shop Madison WI range from $90-$300. Before you pay the replacement price for a new bumper, make AutoColor the auto body shop Madison WI that you call to see how much you can save. Bumper Repair Details
Car Detailing Madison WI
There is no reason for you put up with a car that isn't perfect! AutoColor cleans and rejuvenates the interior and exterior of your car recapturing the stunning new car look you remember. Appearance Service Details
Auto Color is a trusted auto body shop Madison WI that works seamlessly with auto dealerships, fleet/facility managers, rental car companies, insurance companies and drivers of leased company vehicles, by providing fast, high quality, specialized body shop Madison repair and reconditioning services.
Our services are now available to every car owner whether you have a lease return vehicle, a trade-in or a vehicle you want to sell. We have worked on just about every type of vehicle on four wheels and some with less – including boats and planes (not to mention the world renowned Wienermobile).
Brands on which we routinely perform auto body repair include Ford, Chevy, Chrysler, Lincoln, Mercury, Buick, Cadillac, Lexus, BMW, Volkswagen, Honda, Toyota, Hyundai, KIA, Fiat, MG and more (including Bentley and other collectables).
We keep vehicles like new by using a wide array of body shop techniques and provide the highest professional standards you expect from an auto body shop in Madison WI.