Madison's Auto Body Shop Alternative
Whether it's a paint scratch on the passenger door that's bugging you or significant damage keeping your car in park, Auto Color is here for you and your vehicle.
Auto Color has served the Madison, WI region since 1991. We help drivers in Middleton, Waunakee, Fitchburg, Oregon Verona, McFarland, Stoughton, Cottage Grove, Sun Prairie, Deforest, and all of Dane County.
"I have never been disappointed by the work done by Auto Color. I heartily recommend them."
Victor L.  –  Google Review
We also offer body repair and reconditioning services for auto dealerships, fleets, rental car companies, lease company vehicles, insurance companies, and more.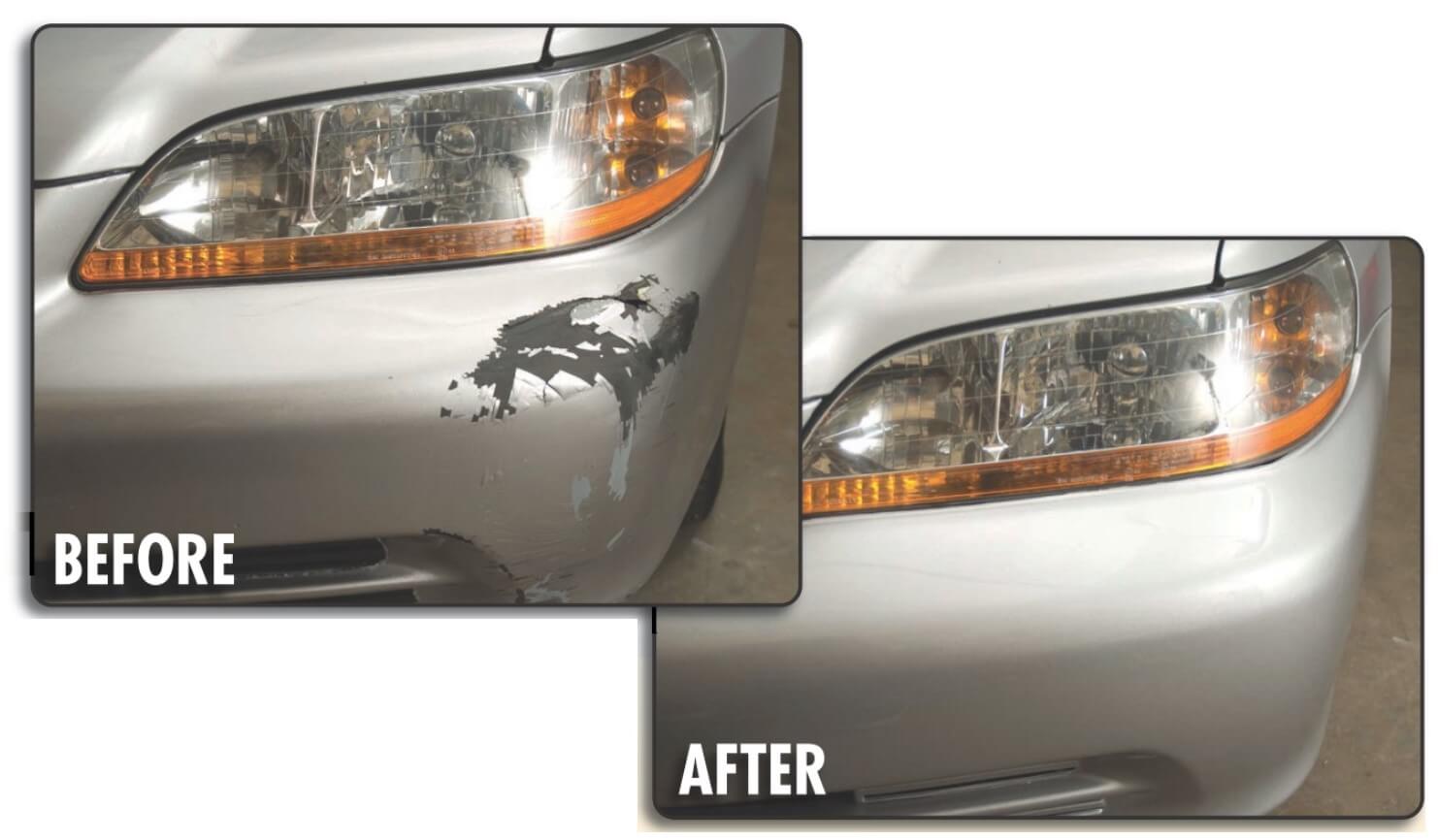 We know dealing with auto body repair is a stressful time for you, but we'll do everything we can to make the process easier so you don't need to worry, sounds good doesn't it?  It's our privilege to work on your vehicle.
Fast, Affordable, High-Quality Body Repair Service
Does the mere thought of car repair seem exhausting to you? Maybe you've had to wait a long time for repairs in the past. Or maybe you had to jump through hoops just to file an insurance claim. We understand.
At Auto Color, we provide best-in-class service for your car at a much lower price than you expect. Some of our services—like our paintless dent repair—might even be covered by your car insurance deductible.
"Some jerk put a really nasty door ding on my car, so deep it went down to the primer. Auto Color did a combination of PDR and touch-up paint that is impeccable, so much so that even finding where the original damage was tough and it can sometimes take a while. Absolutely top-rate results at a very fair price, I highly recommend them!"
Yoyodyne ArtWorks   –  Google Review
What's even better? Some of our repair services can be done the same day, sounds great right? There's no waiting days or weeks to get your car back, and no need to rent one in the meantime. And when you get your car back, it'll look like it was never damaged in the first place.
Restore Your Car to Almost New Condition
We know how it feels to have a damaged car. At best, it looks ugly, and at worst, you're left without transportation. At Auto Color, we'll restore your vehicle to the way it looked before the accident.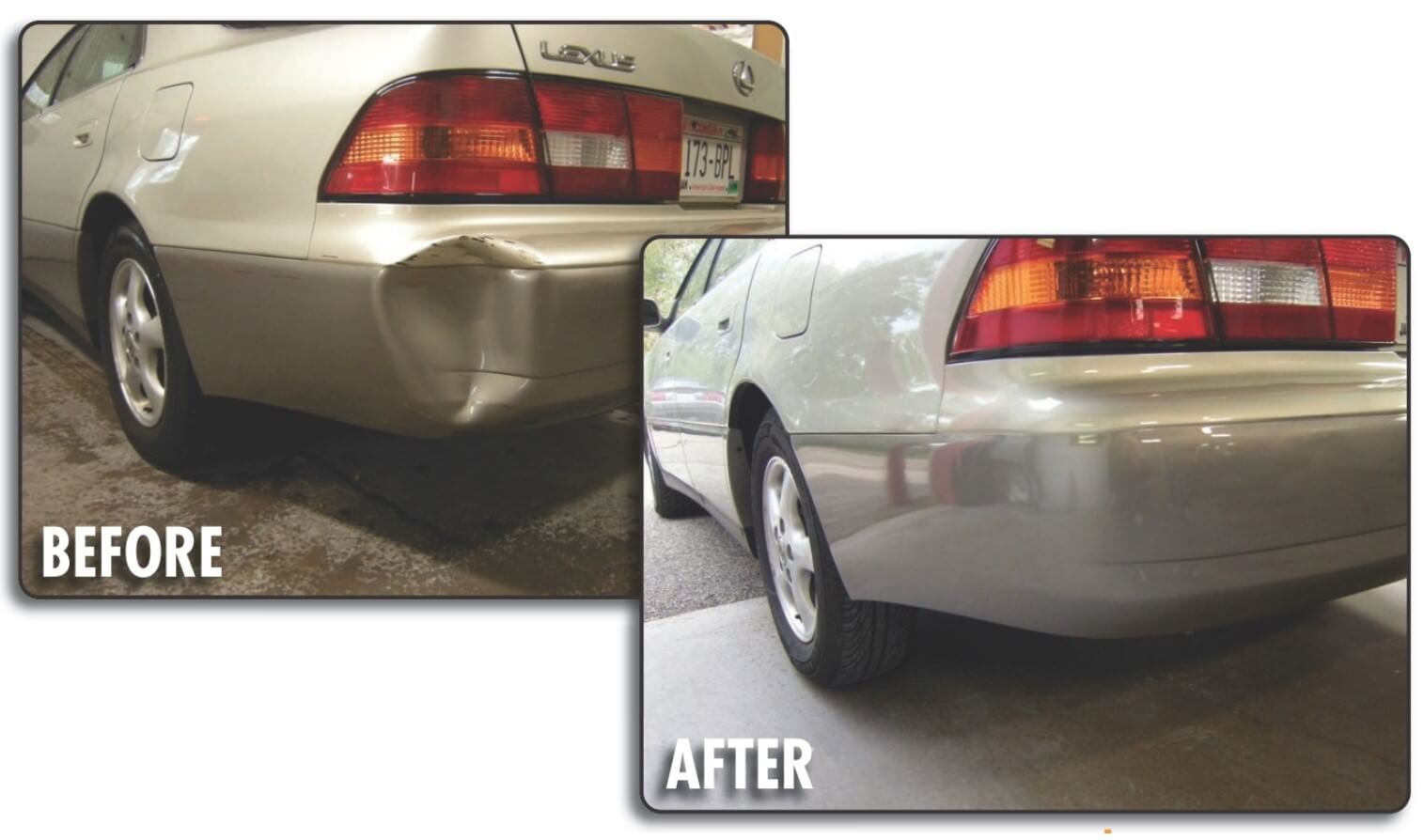 What can we do to get your car back in gear? Check out our services!
Plastic bumper repair
Bumper paint repair
Car paint repairs
Paintless dent repair (PDR)
Traditional dent removal
Key scratch paint repair
Ding and dent paint repair
Appearance services
Alloy wheel repairs
Auto detailing services
If the repair requires frame manipulation or another service our team doesn't provide, we'll outsource the task to a trusted partner in our auto body network. We'll only send your car to people we know can do the job right.
Give Your Car the Attention it Deserves with Our Auto Detailing Services
Maybe your car isn't damaged, but it could use a good wash. We won't judge! Show your car some love and book an appointment with Auto Color for interior and exterior auto detailing.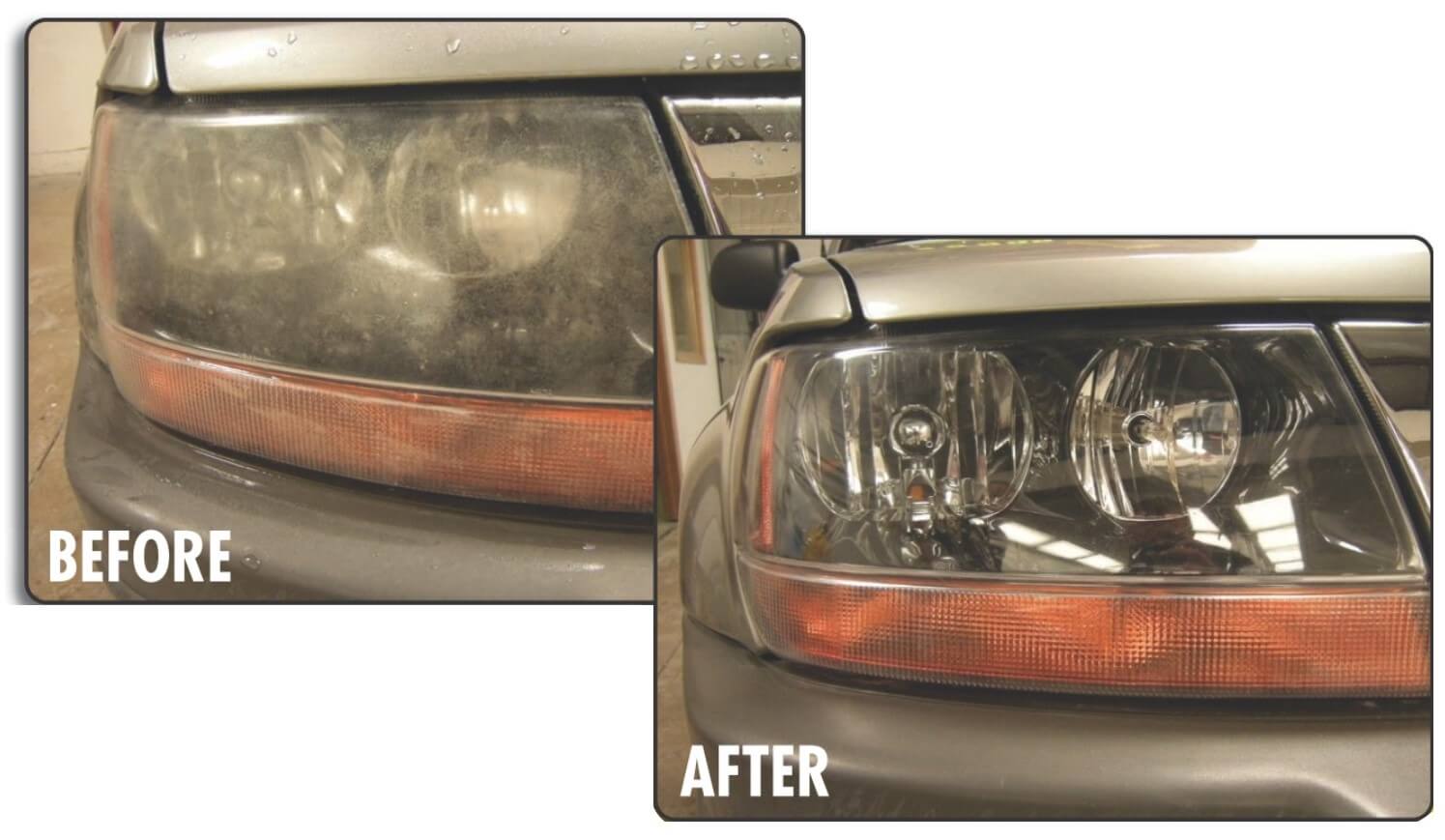 Remember how good your car looked when you first drove it off the lot? Leave it with us, and we'll get it looking—and smelling—brand new. 
"Awesome job! Car had been attacked by a wild turkey, and they got all the scratches out. They also refinished my rear plastic bumper that was hit and run, and they detailed the inside. The car is 61/2 years old, and now looks brand new. Thanks Andy and crew for another job well done!"
Fred K.  –  Google Review
We work with just about every vehicle on the road—ask us about the Wienermobile! Your luxury vehicle is in capable hands with our auto detail team. We clean a variety of high-end brands, including Cadillac, Lexus, BMW, and Bentley.
Do you drive a collectible car? We'll help you keep it pristine. Got a boat or a small plane? Call us to see how we can help you keep those sparkling clean, too.
To book an appointment or talk to us about your car detailing needs, call 608-831-9554 for our West Madison services or 608-221-5041 for East Madison.
Customer Service Is Our Specialty
We love cars, and we look forward to helping you with yours. You can trust we'll get the job done right. Our service is about more than fixing up your car.
We want to keep your stress levels low, which means we communicate with you about what your car needs and why. With us, you know when you'll get your vehicle back, how much repairs or detailing will cost, and why we do what we do.
Check out these reviews from our customers to see what others have said about their Auto Color experience.
Car Paint Repairs
From small paint chip repair work to more extensive paint jobs, your car will look good as new when we're done with it. Our trained technicians have experience with all makes and models.
We use refinishing techniques saving you money without sacrificing quality. We have a whole menu of car paint repair services, including:
Stone chip paint repair
Key scratch touch-ups
Dings and dents repair
Rust repair
Bumper paint repair
Bring your car to us for all your paint job needs. From ordinary wear-and-tear paint chips to major dents and exterior damage, we'll make sure your vehicle gets the attention it needs.
Minor Collision Repair
Have you recently been in a fender bender? Did someone hit your car at the grocery store and drive off without so much as a note? We'll assess your car's damage and offer you repair options that will save you money.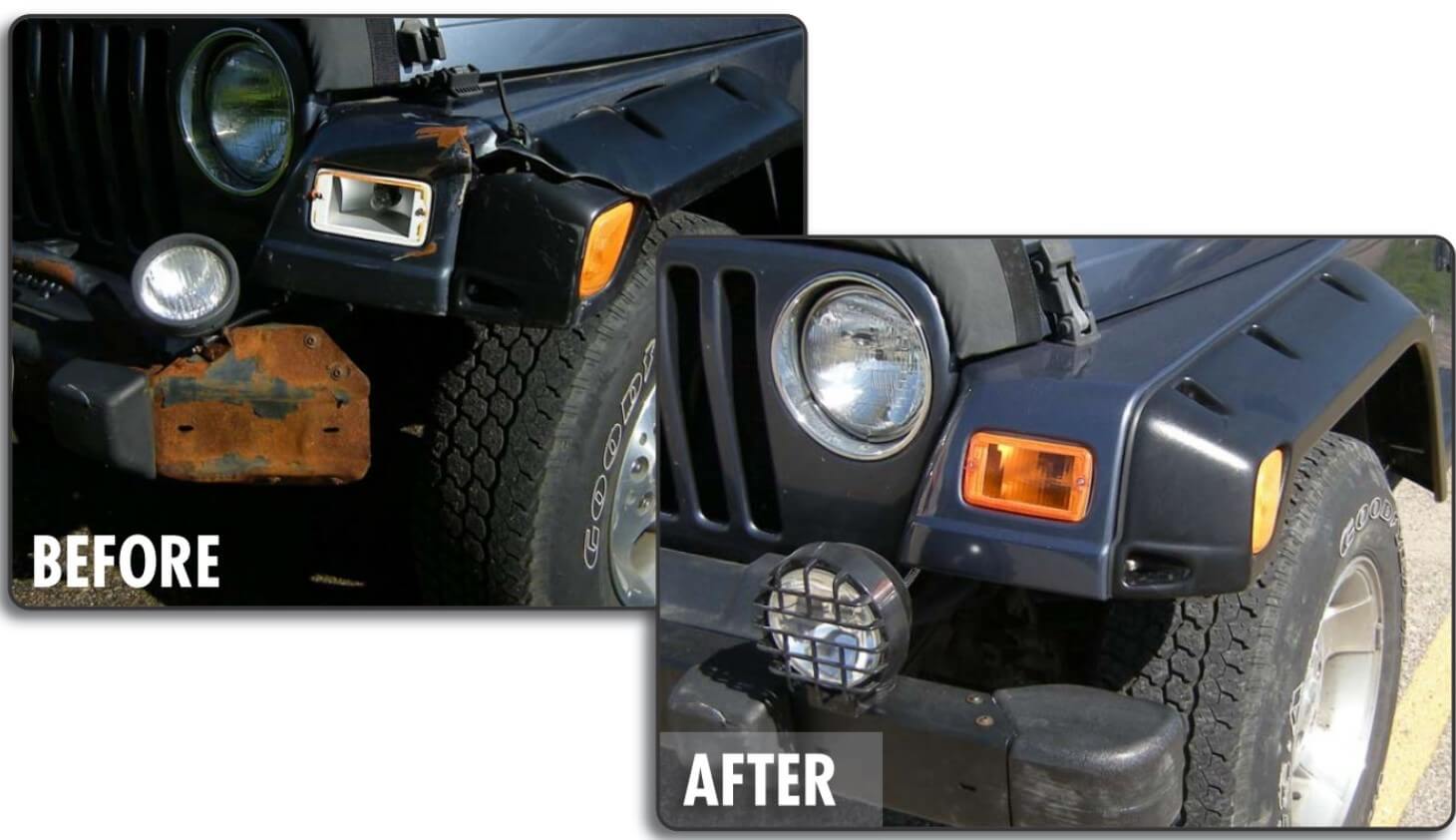 Don't worry about the insurance claims. We work with all insurance companies, and we'll do our best to make the claims process easier for you.
"I have used auto-color a couple of times. Honest and reliable. Good value quote compared to a few others. Did a great job. They deliver on time and as proposed. Would definitely use them again if necessary, although, I hope I won't need to!"
Premraj M.  –  Google Review
At Auto Color, our team of body shop technicians performs almost all damage repair in house. If there's frame damage, we'll outsource the work to one of our trusted auto body repair partners.
We know how important it is to have your car back in your driveway. We also know you'd rather not have to make these repairs. But you'll be just as thrilled with the results when you get your car repaired at Auto Color as we are to serve you.
Plastic Bumper Repair 
Plastic bumpers are easy to crack, dent, or scuff. When they get damaged, it can make the damage to your beautiful car, van, or SUV look much worse than it is.
There's good news in this case. It's not expensive to get your plastic car bumper repaired.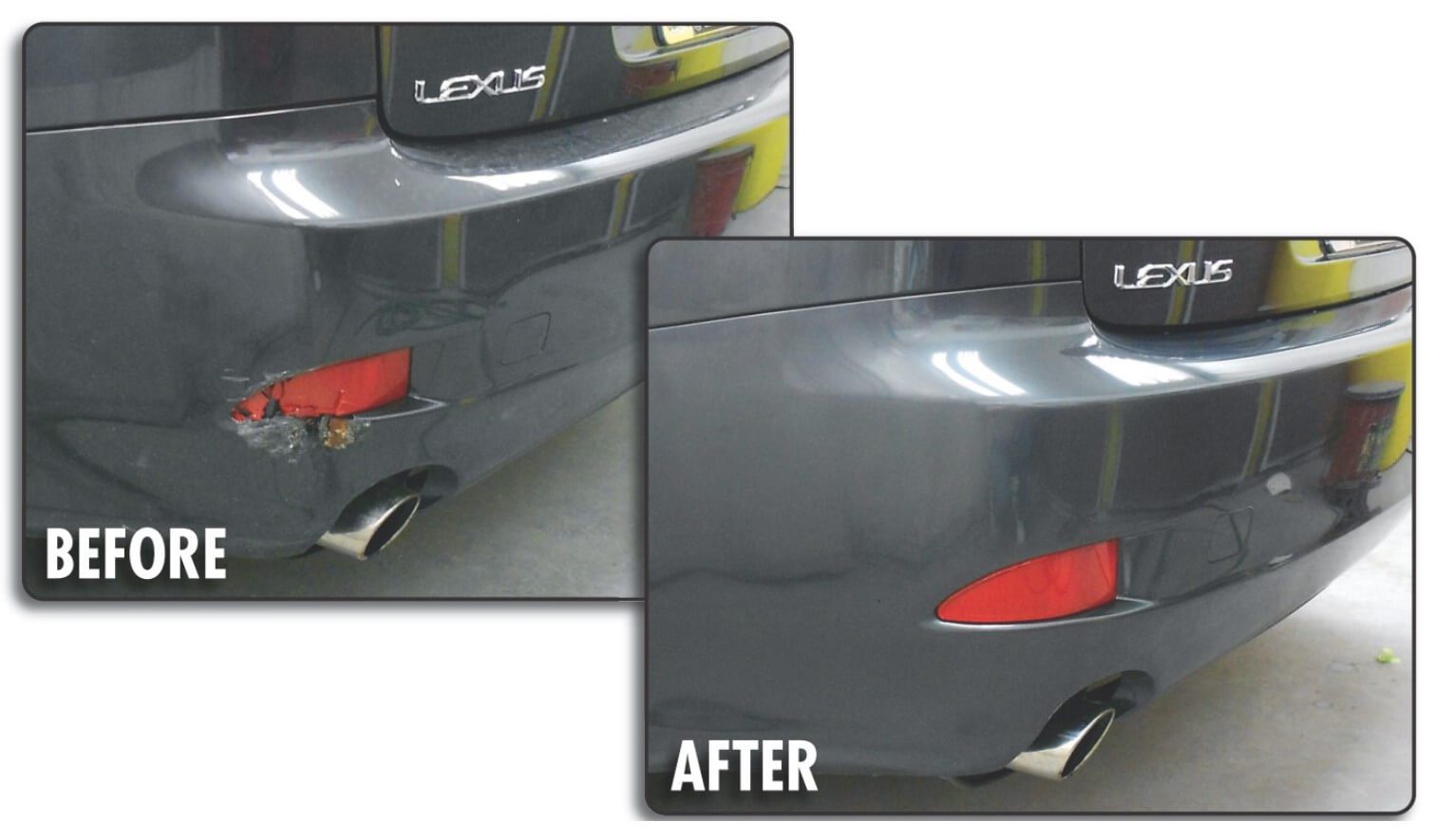 At Auto Color, we repair the plastic bumper on your vehicle without breaking the bank. That's because we focus on the damaged part of the bumper without touching the rest of your car. In fact, there's usually no need to replace the entire bumper.
The bumper replacement cost varies depending on the extent of the damage. You can expect to pay between $90 and $495 to get your plastic bumper repaired, with damage ranging from little dings to a full bumper replacement.
Paintless Dent Repair – PDR
So you've got a massive dent in your car. That'll make for an expensive body paint job, right?
Wrong! Not all dents require a paint job to repair them. Bring your damaged vehicle to us, and we can use a paintless dent repair (PDR) technique gets your car back in shape in no time.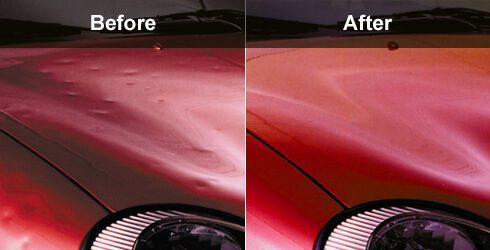 Paintless dent repair is the ideal option if your car's finish is intact, and the panel metal isn't stretched. Not only is PDR an efficient way to repair your vehicle, but it will save you some money, too.
What if you've got an older model car? You're in luck—we can still fix it without paint. No matter the model year, we won't alter the color of the paint in the damaged area. (And don't worry—even if the finish is cracked, we can fix that, too.)
"Auto Color did an amazing job on my X3, removing a dent on the rear tailgate. The BMW dealer told me they had to replace the entire door, which cost a lot of money, another shop quoted me double what Auto Color did. Took it to Auto Color and the job was finished on time and with good service, but most importantly, the car looks like nothing happened. Thanks guys!"
Juan V.  –  Google Review
Save Time and Money with Paintless Dent Repair for Hail Damage
The traditional way of repairing cars can be costly and time-consuming. Depending on the extent of the damage, the paint will need to be blended to match the various panels on your vehicle. But with paintless dent repair, we don't have to worry about matching colors.
Even if your car got in the way of someone's field goal, our paintless dent removal team will make your dent disappear. Here are some of the benefits you can look forward to with PDR:
It keeps your paint and corrosion protection finishes intact.
The paintless dent repair cost is much lower than traditional repair techniques. It's so cost-effective and there's usually no need to file an insurance claim.
You'll get your car back fast! We're often able to offer same-day service, so you won't have to worry about a loaner car.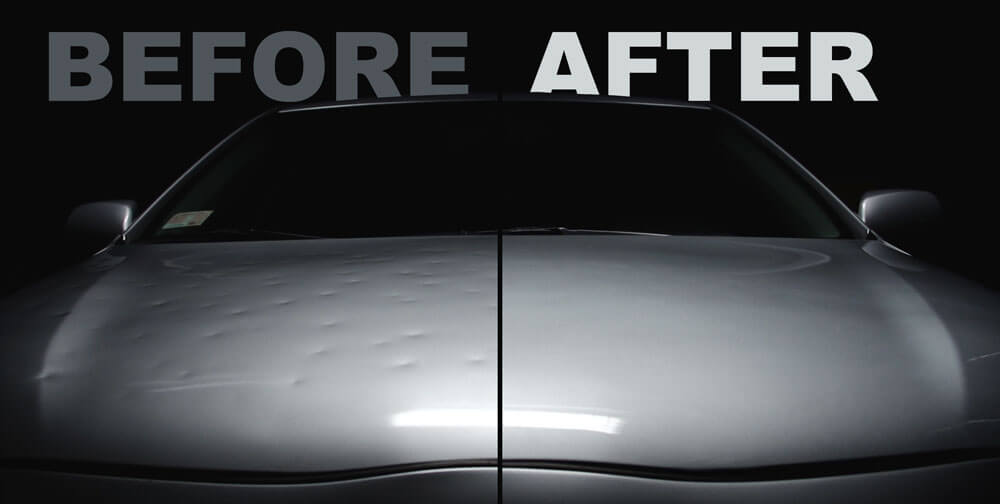 We know getting your car repaired can be a serious inconvenience. But with paintless dent repair at Auto Color, you'll be back in the driver's seat in no time. 
Car Detailing Services 
There's nothing like a pristine car inside and out. If your wheels are looking worse for wear, it's time to make a detailing appointment at Auto Color.
The benefits of a clean car reach beyond showing off your ride. Dirt and grime can damage your car's finish, and create problems with rust and rot. Clean cars last longer, so let us help you keep yours on the road with our detailing services.
"I have used Autocolor many times over the years for paint and dent repair plus the purchase and install of wood grain dash kits. I have always been more than pleased with the quality of their work and fair pricing. Great folks to work with, very professional and I can trust their advice. 😊😊😊"
Bob L.  –  Google Review
We offer a full menu of interior and exterior car detailing services at Auto Color.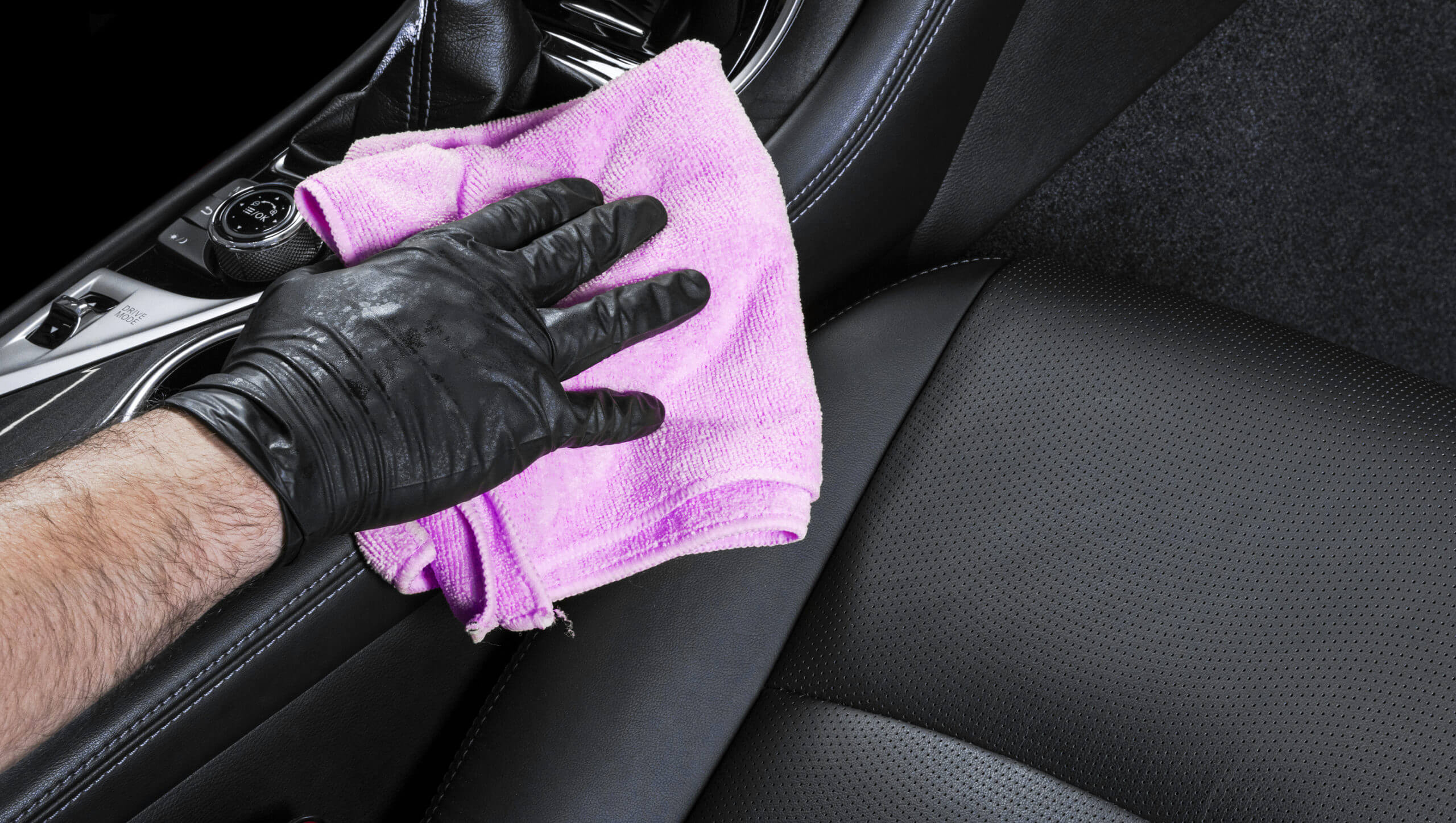 Interior cleaning:
Vacuum and shampoo carpets
Clean and condition leather upholstery
Spot clean all nooks and headliners
Clean windows inside and out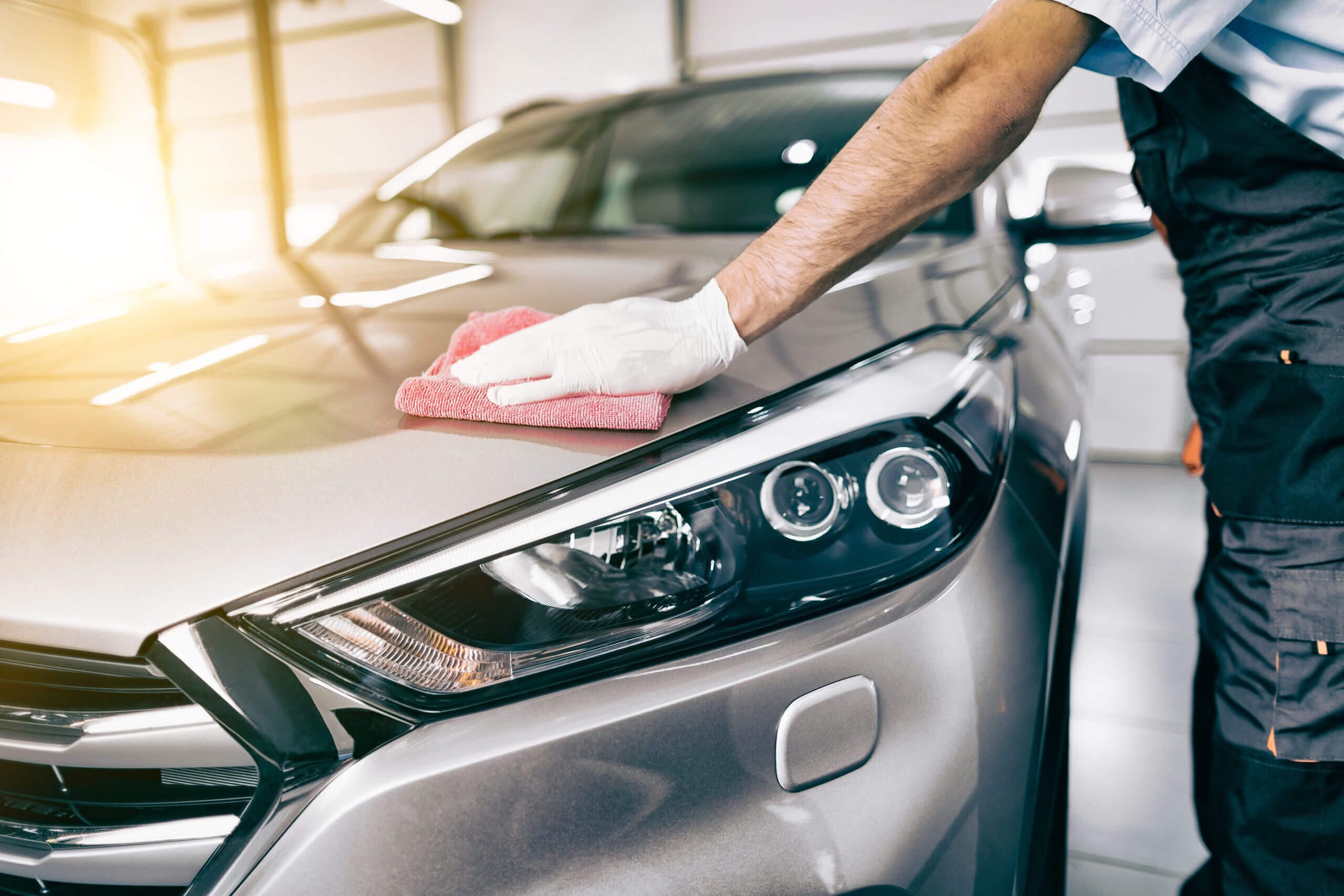 Exterior cleaning:
Handwashing
Bug, tar, and clay removal
Polish/wax
Clean and dress tires
We also provide topical engine cleaning—book it with your detailing appointment.
It takes at least six hours to complete our deep cleaning process, and we use only professional-grade products. You will not believe it's the same car you drove into our shop!
You'll find our detailing prices are reasonable, but we do charge a bit more if your car needs extra TLC.
Ready to give your car the shine it deserves? Contact us to schedule an appointment.
Alloy Wheel Repair
Do you have a set of aluminum alloy wheels on your car? If so, you're not alone. Lots of people have them, but there's a ton of variety in the available styles, and they come with pros and cons.
Fix Your Scraped Alloy Wheels at Auto Color
If you've scraped your alloy wheels on a curb, you've got three options:
Ignore the problem and keep driving.
Spend some serious cash on new wheels.
Take your car to Auto Color for repair.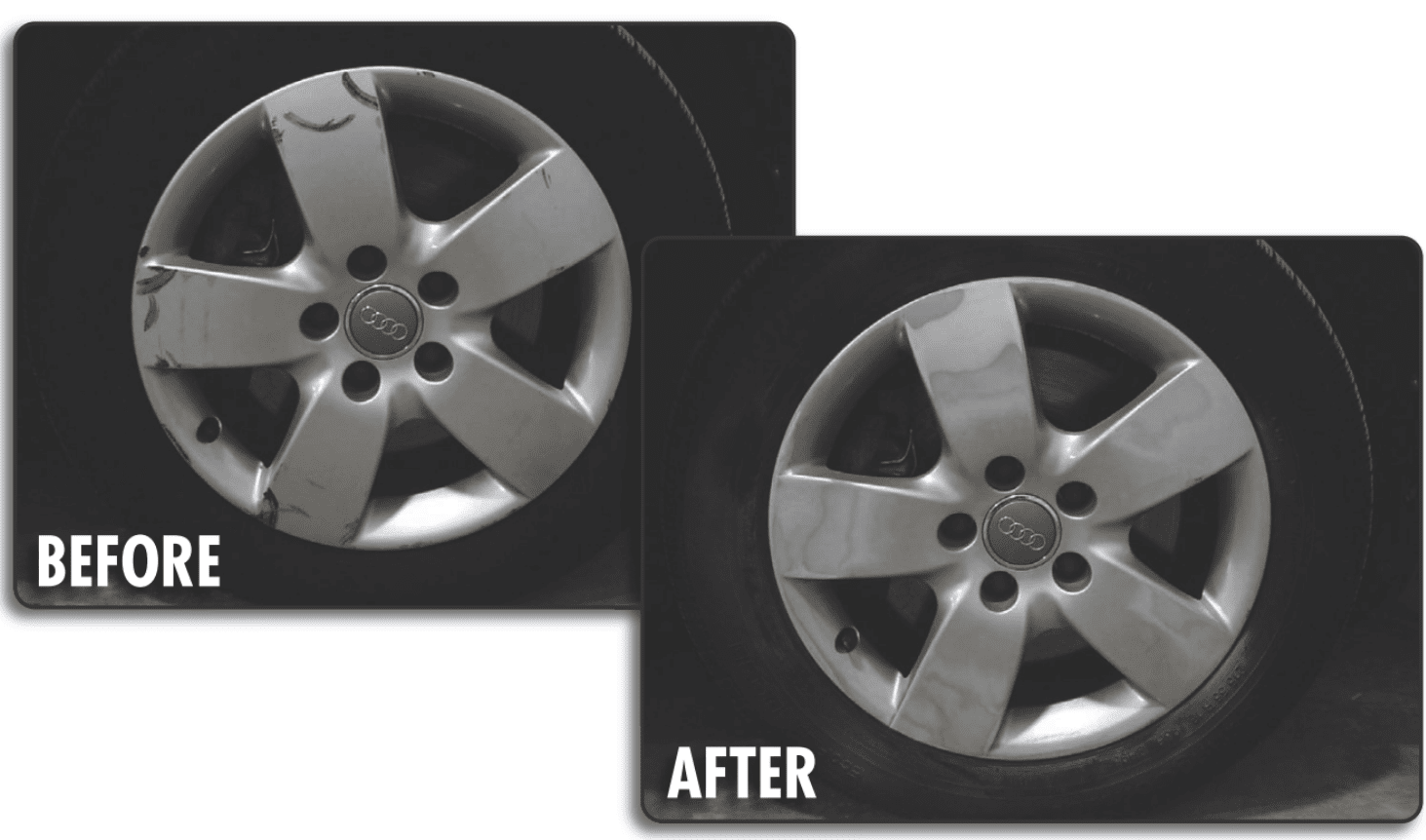 We don't mean to brag, but we know a thing or two about alloy wheels at Auto Color. Our team of experienced tire professionals can usually fix minor damage without hassle or a high price tag.
Of course, if your wheels are bent or broken, you'll still need to replace them—but we can handle that for you, too.
Not sure which option is the right one for your vehicle? Let us help! We're here to give you advice along with repairs, so don't hesitate to ask us questions about your vehicle's needs or maintenance.
Auto Upholstery Repair 
Everyone loves a new car smell. At Auto Color, we can help you get it back with our upholstery repair services!
If you spend a lot of time on the road, it makes sense to freshen up your car's interior. We'll also repair any worn down parts—remember, it's usually cheaper to repair than it is to replace!
Check out the services we provide to get your car looking and smelling new again:
Upholstery cleaning. We'll recondition part or all of your car's interior
Upholstery repair. Whether you have leather, fabric, or another interior material, we can repair any ripped or damaged areas.
Upholstery spot repairs. If there's a small area which needs mending or replacement, we'll take care of it.
Our experienced auto upholstery repair professionals will work to make sure your interior looks like new again.
Madison's Experts in Auto Body Repair
At Auto Color, we know cars. No matter what make or model your ride is, bring it to us for repair or detailing. Our expert team of auto body repair and detailing professionals will get your vehicle back on the road in no time.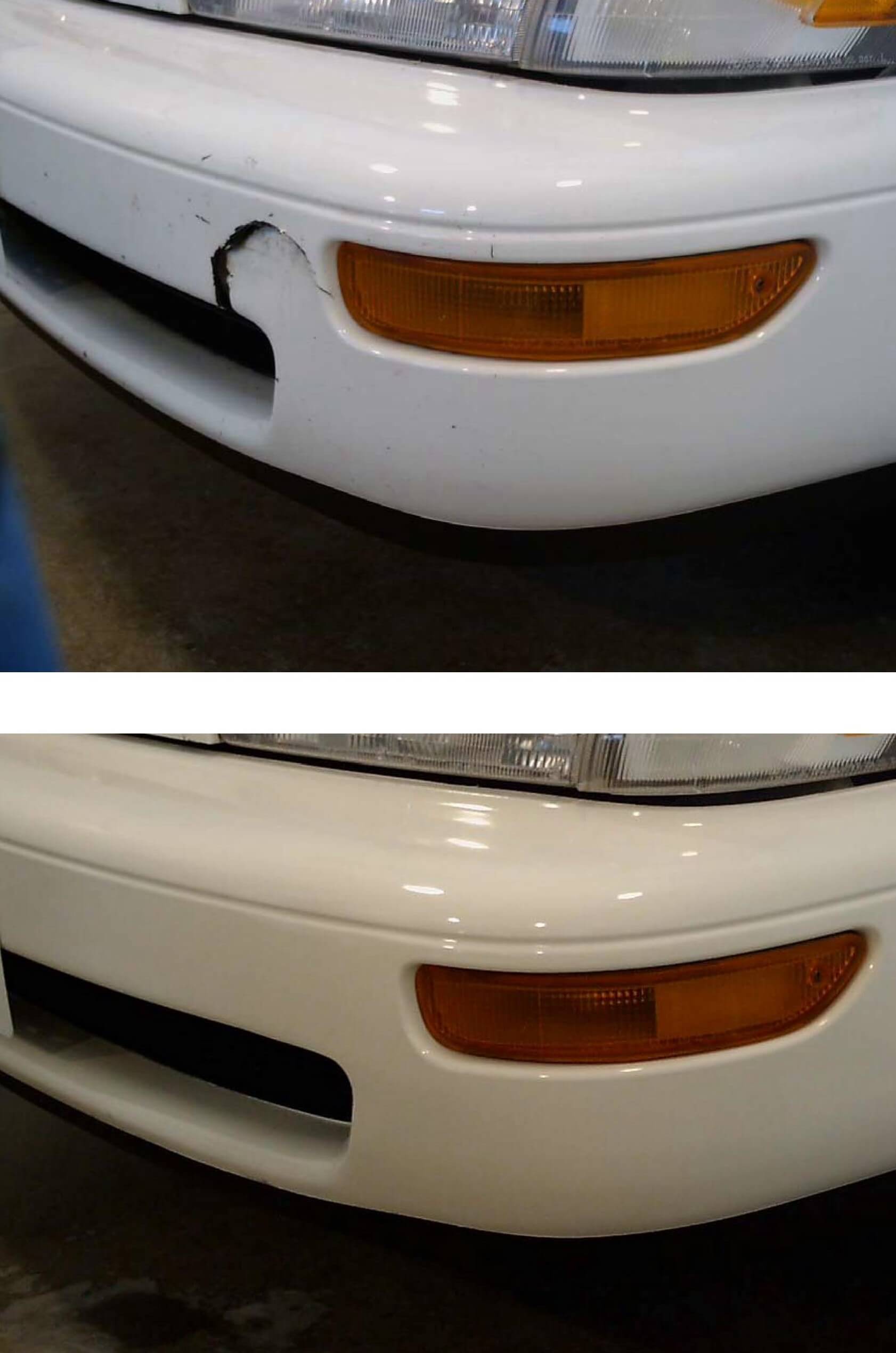 Body Shop Repair & Auto Appearance Specialists 
When it comes to auto body repair, you usually have a few options for fixing damaged cars. Not sure what yours needs to get back in shape? Leave it to the professionals!
Bring it to us and talk with our expert technicians. We'll walk you through your options for repair to find out what works best for you and your budget. From small scratches to big dents, we'll take care of it all for you at Auto Color!
COVID-19 Information: We Are Open!
As an essential Business we will be open, repairing cars as always.
Call us or drop in – we are here to help.