Paintless Dent Repair – Middleton-Madison WI
Paintless dent repair offers an affordable and quick technique to repair many types of dents from the size of dimes to football size.
When using paintless dent repair techniques, the original color in the area of the dent will not be altered. This holds true no matter the age of the vehicle or the fading of the paint that may have occurred in the area being repaired.
Paintless Dent Repair is Economical In Middleton WI
When the paint finish is not broken and the metal in the panel is not "stretched", the paintless dent repair option is one of the most cost efficient repairs Auto Color can provide to its customers.
If the finish is broken, Auto Color's paint repair specialist can repair the finish. However, the paint rarely can be matched exactly and new paint must be blended with the surrounding area. Depending on the location of the dent, the new paint may have to be blended on multiple panels increasing the scope of the repair greatly. With paintless dent repair, this can be avoided completely.
This same repair scenario exists for dents where the metal itself has been stretched. If the metal has been stretched, paintless dent repair is not an option. Body filler, repainting and blending the new paint with the existing paint color is the only option.
HAIL DAMAGE?
We can fix you up like new.
Click here to find out more.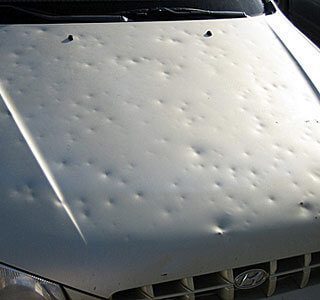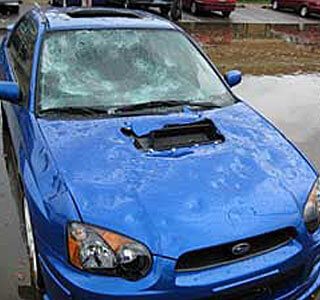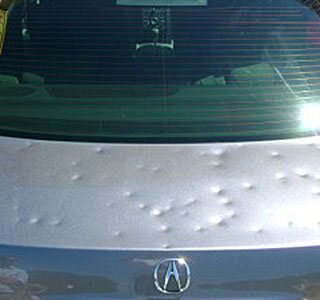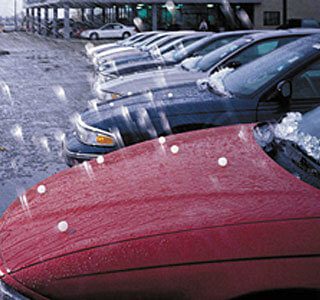 Benefits of Paintless Dent Repair In Middleton WI an Madison WI
Simply said, paintless dent repair offers major benefits, they include the following –
Paintless dent repair maintains the original paint and corrosion protection finishes of the vehicle
Paintless dent repair is a fraction of the cost of traditional body shop options
Paintless dent repair is fast – often with same day service – so you don't lose the use of car
Paintless dent repair is usually within deductibles,  avoiding claims with insurance
Paintless Dent Repair For Dent Removal & Hail Damage
Paintless dent repair solves some of the most common problems car owners have to deal with. Think about it, is there anything worse than walking up to your car and spotting a dent or ding left by somebody's door or lousy driving? Or maybe one of the kids' bike handlebars creasing a side panel? Dings and dents are almost unavoidable. Thankfully, in Madison WI there is a quick, smooth remedy for most of them.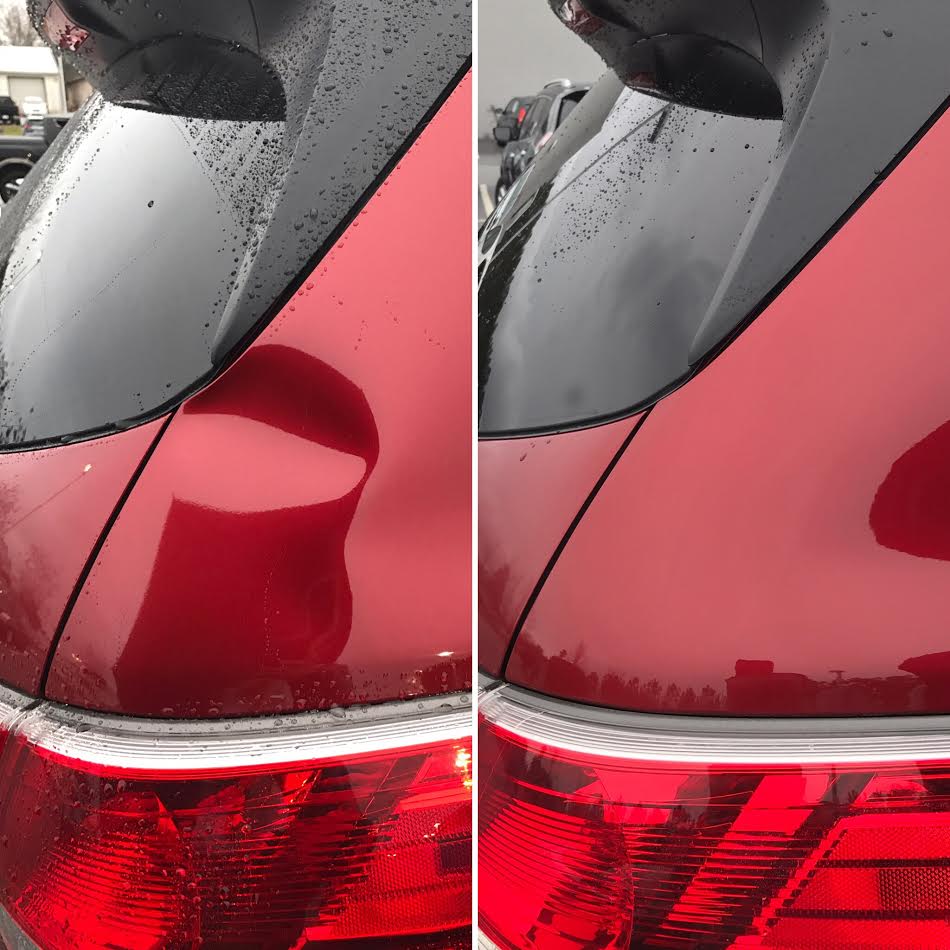 Advances in paintless dent repair (PDR) make minor dent removal a nearly painless process. You can avoid costly major repainting and metal work while getting your vehicle back to looking great fast. And the latest technology doesn't "break the bank."
In addition to unexpected damage from fellow drivers, Mother Nature adds to the mix. Hail is a threat that's nearly impossible to avoid or predict. Hail damage repairs, like fixing parking lot dings require specialized skills and tools.
Paintless Dent Repair Is THE Way To Go
When using traditional dent removal techniques panels have to be repainted. Blending new paint and clear coat with existing paint takes an artist's touch. It is also time consuming and expensive. Paintless dent removal insures the colors stay as you expect while dents and scratches disappear. That's especially important with older vehicles – faded and weathered paint is nearly impossible to match! You might wind up paying to repaint all or parts of more than one panel to make sure all the surfaces look like they belong together!
"Andy and his team did a great job on my vintage Supra front end and spoiler.
Excellent communication and results. "
A. King – Google Review
Not so with a paintless repair. With today's methods dents from the size of a dime to a football are made to disappear. As long as the car's metal has not been "stretched" paintless repair is the cost-effective option.
Paintless dent removal works wonders for things like:
Minor dings and dents
Car door scrapes and scratches
Small "fender bender" dents
Hail damage repair
Besides being less expensive than traditional dent repair, the paintless approach offers these advantages:
Corrosion protection
Maintaining the original integrity of the paint and clear coat
Fast, efficient dent repair – often completed in a day
Costs fall within most insurance deductibles so no insurance claim is necessary
Removes rounded dents from the size of small coins to size of softball or football
This is THE best body shop around. I've asked them to do the impossible, they scratch their heads, wonder how it will happen; and I come back to find my car looking spectacular.
"This is THE best body shop around. I've asked them to do the impossible, they scratch their heads, wonder how it will happen; and I come back to find my car looking spectacular. They under promise and way over deliver!! "
J. Hill – Google Review
The Challenge Of Repairing Dents And Scratches
Without getting too technical, the challenge to repair technicians comes down to whether the metal is stretched. When metal is stretched paintless repair isn't an option. When paint is stretched but not broken, paintless dent repair is usually the best choice.
PDR makes sense because:
It protects the integrity of the car's finish
It can be applied to any make or model
PDR works with all vehicles no matter their age
The process is not invasive so the finish matches all around the car
It takes far less time to complete
It is a cost-efficient alternative
The process often doesn't require an insurance claim to cover the cost
The key to deciding which dent repair process is best for your vehicle is applying a professional's eye to the damage. With years of experience in repairing door dings up to major crashes AutoColor's trained auto body and paint specialists appraise your situation quickly.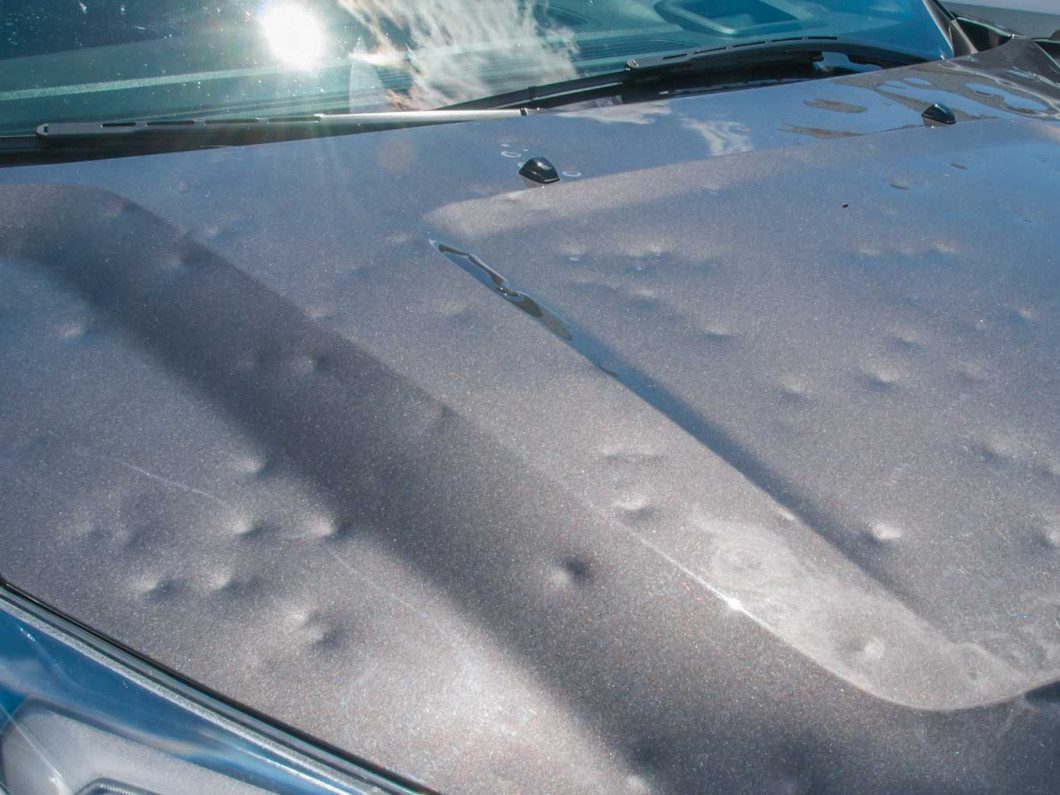 Hail Dent Repair – PDR Is The Ultimate Solution
You can be the safest most attentive driver on the road but if a hail storm hits you're out of luck. If you cannot get your vehicle out of the storm, hail damage can be extensive. And you aren't likely to suffer just one or two neatly spaced round dents. There could be dozens. Your prized ride turns into a dimpled "golf ball on wheels" in seconds!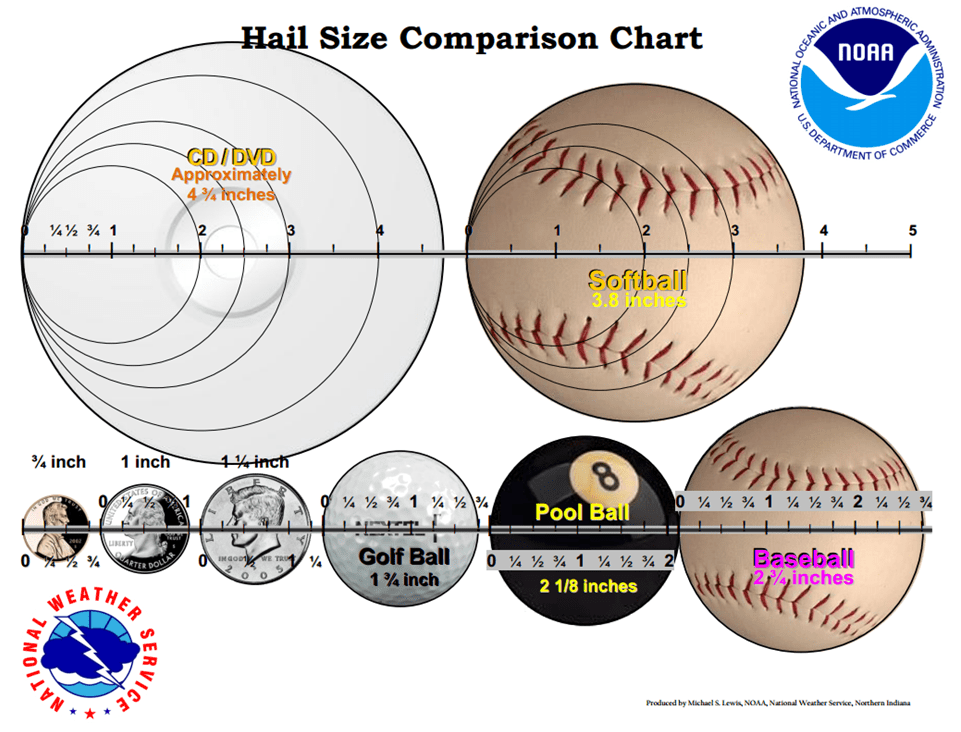 The National Weather Service keeps records of hail storms and hail damage. It reports any time hail gets to be 1-inch in diameter it can cause severe damage. Anything bigger makes even larger dents!
The threat of hail is possible in any summertime thunderstorm in the Madison. In a normal year we see a few local storms causing hail damage – recently Middleton and Madison – have both been hit with hail more than an inch in diameter.
It could be worse. Consider these statistics and count your blessings:
Many states are often hit with severe hail storms:

Texas in the last three years had 17 with some dropping 3-inch diameter hail.
South Dakota had 98 in the last two years with hail larger than 2-inch diameter.
In the past two years Wyoming had 54 with some hail stones measuring more than 4 inches in diameter.
Colorado Spring, CO had 111 hail storms in the past two years with some recording 4-inch ice chunks falling from the sky.

Across the country hail damage results in more than $15 Billion in insurance claims.
Not So Fun Fact – The largest hailstone in Wisconsin history measured more than 5 ½ inches in diameter and hit Wausau about 100 years ago. 
Unless you're fortunate enough to have a place to shelter your car, hail damage is almost unavoidable.
Because hail causes uniform dents not breaking the finish or stretching the metal beneath your paint, PDR is the ideal solution. If you're caught in a severe hail storm, we will get you back on the road as good as new.
We Do Traditional Dent Removal Too
If metal beneath the paint is stretched or the paint finish is broken, you may be left with only the traditional dent removal option.  
Traditional dent repair may require:
Sheet metal bending, shaping – often panels are replaced
Filling – using a plastic body filler (commonly known by the brand name "Bondo")
Repainting – blending paints to match the rest of the vehicle
Multiple panels involved – location is important, blending paint to match and make the vehicle look good can include more than spot repairs. Often, it includes working on several adjacent panels.
Any time painting is required the scope of the project expands. New paint rarely matches existing paint – thanks to the weather, UV rays, etc. It takes added skill and time to blend the new to match the old. The more extensive the painting task the more time it takes to complete the repair. More time always equals higher cost. Unfortunately, sometimes damage goes beyond the scope of what paintless dent repairs can accomplish.
The good news is our skilled and experienced technicians can repair nearly any damage your car may have, including:
Plastic bumper repair
Bumper paint repair
Car paint repairs
Paintless dent repair (PDR)
Traditional dent removal
Scratched paint repair
Ding and dent paint repairs
Alloy wheel repairs
Auto detailing services – inside and outside
Need to file an insurance claim? Don't worry about it. We work closely with insurance companies every day and will walk you through the process.
"Andy always gives me great advice and what he feels should be done with the various things I have brought to him. Always fair and very reasonably priced. "
D. Semrad – Google Review
Convenient Paintless Dent Repair East And West
There's an AutoColor body shop within easy reach of Madison area residents. We specialize in paintless dent repair and are well-versed in all the latest technology.
We understand taking pride in your vehicle. You want it to look as bright and vibrant as it did when it rolled off the lot, right? We know the feeling. We want every vehicle to look as close to showroom new as it can.
"I like my car to look like new and scratches and dings annoy me. Auto Color Always leaves the surface finish looking new. "
Robert M – Google Review
If your car, truck or SUV needs anything from our list of specialty services call or stop in at one of our two locations:
Madison's East Side on Stoughton Road
On Parmenter Road in Middleton serving Madison's West Side
Take advantage of paintless dent repair technology and all the dent repair services we have to offer. We'll get your vehicle back in shape in no time – without breaking the bank!
When dent removal is your goal from a fender bender or hail damage our paintless dent repair specialists are just a phone call away in Madison WI and Middleton WI.