[vc_row][vc_column width="1/2″][vc_column_text css=".vc_custom_1454996081703{margin-bottom: 0px !important;}"]
We Make Your Car Look Like New …
[/vc_column_text][vc_column_text]Auto Color is designed to efficiently provide the repairs you prefer. Most damage can be repaired in multiple ways. Car owners have the option between the most refined repair and a basic repair protecting against rust or further damage. Here are some examples –
Scratched or Scuffed Paint Can Look Like New
Dent Repair Without Bondo or Paint
Plastic Bumper Repair Instead of Replacement
Headlight Restoration Will Shine Like New
Professional Car Detailing Gives You That New Car Feel and Smell
Avoid Auto Lease Return Rip-offs
Repairs To Fit Your Budget & Won't Break The Bank
Why Pay 100's or $1000's More for Minor Body Repairs?
Auto Color created a process to provide the right type of repair for each car owner. Car owners value each vehicle differently. And, that reality, coupled with the budget available for repair, influence the type of repair a car owner might choose for a vehicle.
Traditional Auto Body Shops Often Charge You An Arm & A Leg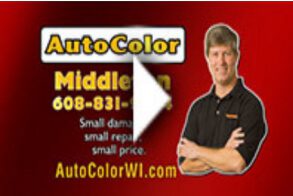 The problem many car owners have with traditional auto body shops is they are geared for repairing vehicles to as near showroom quality as possible— one size fits all. There is nothing wrong with this if the vehicle is relatively new or unique. The newer or more unique a vehicle is, the higher the value and the more likely the owner will want complete restoration done. Usually, the insurance company picks up the tab except for the deductible. A traditional body shop is perfectly suited for this type of repair. Auto Color can easily do those type of repairs except when there is frame damage.
Repairs To Fit Your Budget and Don't Break The Bank
However, the vast majority of auto body related repairs are smaller. And, depending on the damage and use of the vehicle, there can multiple repair options. Varying levels of repair will produce varying results and different levels of investment. While traditional auto body shops are generally a more expensive choice for repair because insurance companies require complete repair/restoration – Auto Color offers auto body repair alternatives to protect your car and your budget. Consider these common situations:
You have damage within your insurance deductible
You have damage that is not much more than your deductible
You have a small accident and do not want to file an insurance claim to keep premiums low
You have an older but reliable car you want to be presentable
Have a new car that suffers from small paint scratches or scuffs, smaller but unsightly dents on a bumper or panel
Your upholstery needs attention to look fresh again whether cleaning or mending stitching
You have stone chips in your paint and you want to prevent rust
Auto Color's Improved Repair Process Saves Time and Money
Auto Color is all about identifying the damage to your car, showing you the alternative for repair and then having you choose the option best for your budget, your car and your schedule. You decide what level of repair is best for your car whether its showroom shiny or looking good but repairs for the long haul.
We Understand – That is why we Started Auto Color
We know budgets and vehicles are both factors in deciding what the perfect repair is for you. No matter
what decision you make, Auto Color is prepared to deliver your best option. Our talented technicians or
looking forward to providing the perfect repair for your car and your budget.[/vc_column_text][vc_row_inner][vc_column_inner width="1/2″][vc_btn title="West Madison Map" style="flat" shape="square" color="orange" size="lg" align="left" link="url:https%3A%2F%2Fgoo.gl%2Fmaps%2FvPhN6xBpCy42||target:%20_blank"][/vc_column_inner][vc_column_inner width="1/2″][vc_btn title="East Madison Map" style="flat" shape="square" color="orange" size="lg" align="right" link="url:https%3A%2F%2Fgoo.gl%2Fmaps%2FPPVpz4TwLYx||target:%20_blank"][/vc_column_inner][/vc_row_inner][/vc_column][vc_column width="1/2″][vc_column_text]Quality work for a fair price
Auto Color Inc. is fantastic and do quality work. They've worked on everything from sedans to boats, my RV, Porsche, and my race car as well. It has been a long time since I've been using Auto Color Inc, about eight to ten years. I like the quality of work they do and their attention to detail. They're just friendly, helpful, and honest. I'd recommend people get their cars fixed at Auto Color!
Jim V. – Middleton, WI
[/vc_column_text][vc_single_image image="1613″ img_size="full" alignment="center" onclick="custom_link" link="https://autocolorwi.com/paint-repairs/"][vc_single_image image="1614″ img_size="full" alignment="center" onclick="custom_link" link="https://autocolorwi.com/paintless-dent-repair/"][vc_single_image image="1615″ img_size="full" alignment="center" onclick="custom_link" link="https://autocolorwi.com/plastic-bumper-repair/"][vc_single_image image="1616″ img_size="full" alignment="center" onclick="custom_link" link="https://autocolorwi.com/appearance-services/"][vc_single_image image="1617″ img_size="full" alignment="center" onclick="custom_link" link="https://autocolorwi.com/auto-detailing/"][/vc_column][/vc_row][vc_row][vc_column][vc_column_text]
Call us Now
– 221-5041 on Stoughton Road – Madison
or 831-9554 at Parmenter Road – Middleton
[/vc_column_text][/vc_column][/vc_row]